Days to the Submission Deadline
Important Dates

Submission

Jan. 20, 2018

Extended to Apr. 20, 2018

Notification

20-40 days after the submission

Publication

30-60 days after the final edition

Conference

May 29-31, 2018
Contact Us

Telephone:021-51098086

Cell Phone:0086-18917219762

QQ:2934920393

WeChat:18101720867
The information about the Keynote Speakers of ICPHMS2018 is as follows, which will be updated regularly.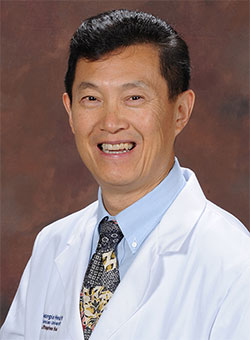 Dr. Stephen Hsu, Professor
Department of Oral Biology, Department of Oral Health & Diagnostic Sciences, Dental College of Georgia, Augusta University (Formerly the Medical College of Georgia), USA
Biography: Dr. Stephen Hsu earned a bachelor's degree in biochemistry from Wuhan University, a Master of Arts degree in molecular biology from Montclair State University and a Ph.D. in cell biology and anatomy from the University of Cincinnati, College of Medicine. He completed a postdoctoral fellowship at Memorial Sloan-Kettering Cancer Center in New York City. Dr. Hsu joined the Augusta University, formerly the Medical College of Georgia, in 1999 and is currently a tenured professor. He is a world-renowned expert in green tea polyphenol research and inventor of green tea technology-derived products and medications, which treat dry mouth, dandruff, hair loss, cold sores, and viral infections with natural ingredients. Dr. Hsu received the Ruth L. Kirstein Research Service Award from the National Cancer Institute. His most recent NIH project is to test the virucidal activity of lipophilic EGCG against norovirus. He was awarded a number of patents on novel technologies targeting autoimmune diseases, herpes simplex virus, virus-induced infections, and salivary dysfunction (xerostomia or dry mouth). Dr. Hsu has been selected as a TED Talk speaker in 2014. He received the International Association for Dental Research (IADR)/GSK Innovation in Oral Care Award in 2011. In 2015, he received Georgia Bio Innovation Award for his unique inventions. Also in 2015, Dr. Hsu received Oral Discoveries & Inventions Award from Georgia Dental Association. Dr. Hsu is also a recipient of two overseas talent awards (Wuhan 3551, and Hubei Chu-Tian Scholar) from China.
Topic: Persistent Virucidal Activity in a Novel Alcohol-Based Sanitizer Formulation Containing EGCG for Potential Use Against Norovirus
Abstract: Norovirus is a major cause of acute gastroenteritis. Alcohol sanitization is ineffective, and currently used alcohol-based hand sanitizers are not recommended by the CDC for norovirus in healthcare settings. The current study evaluated virucidal and bactericidal activity and surface persistence of a novel alcohol-based hand sanitizer formulation, ProtecTeaV, containing lipophilic epigallocatechin-3-gallate (EGCG-p) against a human norovirus surrogate and two bacterial strains. Virucidal capacity against feline calicivirus (FCV) was tested using a standard 50% Tissue Culture Infective Dose (TCID50) suspension assay. Persistence of residual virucidal activity after application on a clean surface was determined through 12 hours. Controls included the formulation without EGCG-p, popular alcohol-based sanitizers, and antibacterial liquid hand soap (LHS). Statistical analysis employed one-way ANOVA (alpha=0.05). Suspension assay results demonstrated that the ProtecTeaV formulation effectively reduced FCV viral infectivity >log10 4 (10,000 fold). Surface applied residue activity remained strong (reduction of infectivity by > log10 3) through 12 hours. In comparison, LHS did not show virucidal activity without washing with water, and other controls failed to reduce infectivity by more than log10 3 (1,000 fold). Results from bactericidal suspension tests demonstrated that ProtecTeaV formulation reduced colony forming united (CFU) of Escherichia coli and Staphylococcus aureus by more than log10 6 (1 million fold). In conclusion, this non-toxic hand sanitizer/surface disinfectant demonstrated effective and prolonged virucidal activities against a norovirus surrogate. Therefore, the EGCG-p formulation is potentially a novel and effective approach to prevent norovirus outbreaks.